So, when my publicist once told me she'd met many people in real life that she'd first met through twitter, I was… skeptical.  And also slightly worried for her safety.  But when  Mary Robinette Kowal (whom I've spoken of before) said on her twitter feed that she was going to be in NYC, I figured I'd give it a shot and tweeted something at her about the possibility of hanging out with her.  I'd emailed her once before asking about a video I'd been told she'd done, and she was astoundingly sweet and helpful and generous with advice – she was the first author I'd contacted who was so genuinely excited for me and my being published – and this is a woman whose book I've treasured, and whose won various prestigious awards and is just generally awesome and in my mind a total celebrity.  I confess, those few emails, I may have gotten… somewhat rambly.  I was terrified I'd managed to shoot down a potential writing friend for weeks afterwards, but as I said, I tweeted at her anyway, so excited was I that she was going to be in NYC.  And to my great surprise, she said she'd love to meet me (and was reading – and enjoying – my book).
So yes, I met Mary Robinette Kowal.  Hell, didn't just meet her – hung out with her.  I'm not great at meeting people.  And meeting writers adds a whole other level – will they be competitive? my book isn't out yet, will they judge me for that? Or, will they judge me when I say it's steampunk, or say the plot description? Will they judge me based on my publisher/editor/academic background/etc/etc?  All of that runs through my head when the opportunity to meet another writer appears.  And they're enhanced when I know and love the work of that writer.  Most of the time, I ask my editor or publicist to introduce me, as a sort of 'see? I am a real writer!' statement.  Ridiculously insecure – don't worry, I'm aware.  Working on it, too.
Mary did not once give the impression of judging me.  I didn't feel a need to prove anything.  She was funny, way smarter than me, and terribly charming.  We just talked – about NYC, writing, the publishing business, family, where that fish we saw some dude pull out of the river was going to end up – the usual stuff.  My nervousness was gone within moments.  And it wasn't until Sunday when I suddenly realized I'd spend part of the day just hanging out with one of my favorite writers, and she was awesome and I hoped I'd get to see her again – and not in a crazy fanboy way.
So yeah, that was the highlight of my weekend of sheer awesomeness.  If you ever get the chance to meet Mary, go for it.  She's fantastic.  And go read her book, too.
After my fun few hours with Mary, I also got to go see the McQueen show at the Met that everyone is talking about.  I highly recommend it.  Beautifully curated with amazing pieces.  One dress is made partially from microscope slides.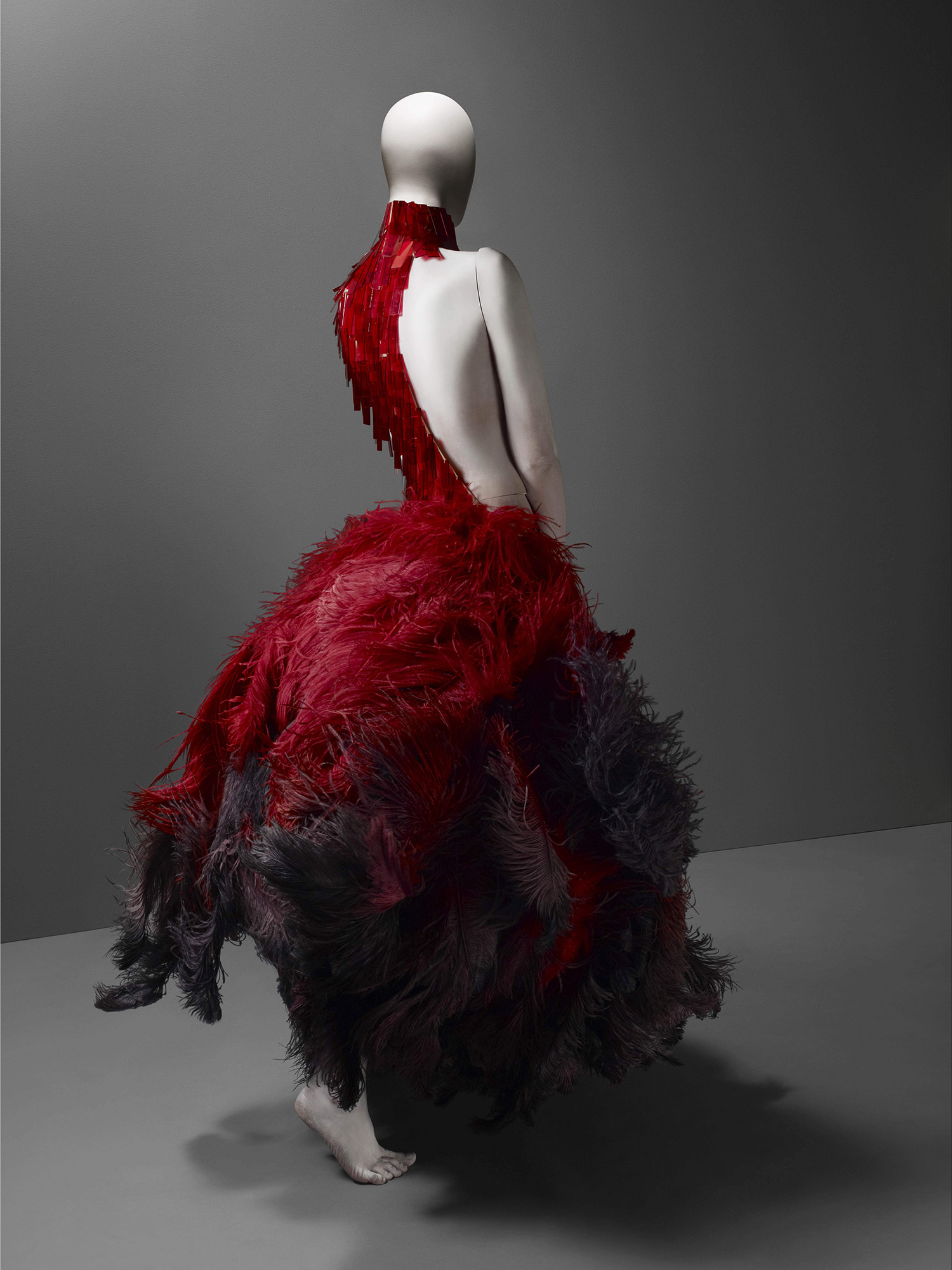 I had several favorites, but the one I'll mention is the golden feather jacket and paired skirt.  It's like what an angel would wear.  A classy, grande dame of hollywood angel.  There are so many other beautiful pieces, several of them steampunky.  I loved the red leather top and the straight, but silky red bottom, the dress with flowers in the hips, the one dipped in mud, the one with the antlers and veil – I could go on.
It's an amazing show.  Very worth seeing if you enjoy fashion.
So, I gotta say, pretty much one of my favorite weekends in a while.  I'm going to be going under for the next several weeks – I have a lot of work deadlines, some set by others, some by myself, and I really need to focus on using this summer to get to where I feel good about the work I've done, so when the book comes out and I'm crazybusy, I won't feel too bad if I don't get as much writing done.  In other words, I want enough to be done before the book comes out that I know stuff is still happening – my agent reading something, or editors, or friends – so when the book stuff starts fading, I can go right back to that.  It's all about timing.  Point is, my already sporadic blogging will probably become even more sporadic.  Sorry if you miss me.  But you can always hit me up on twitter and tell me to blog.
Or maybe I'll just post lots of photos of Hippo in amusing costumes.  That could always fill the space, right?